April 9, 2022
Cold Feet Almost De-Rails Pub Opening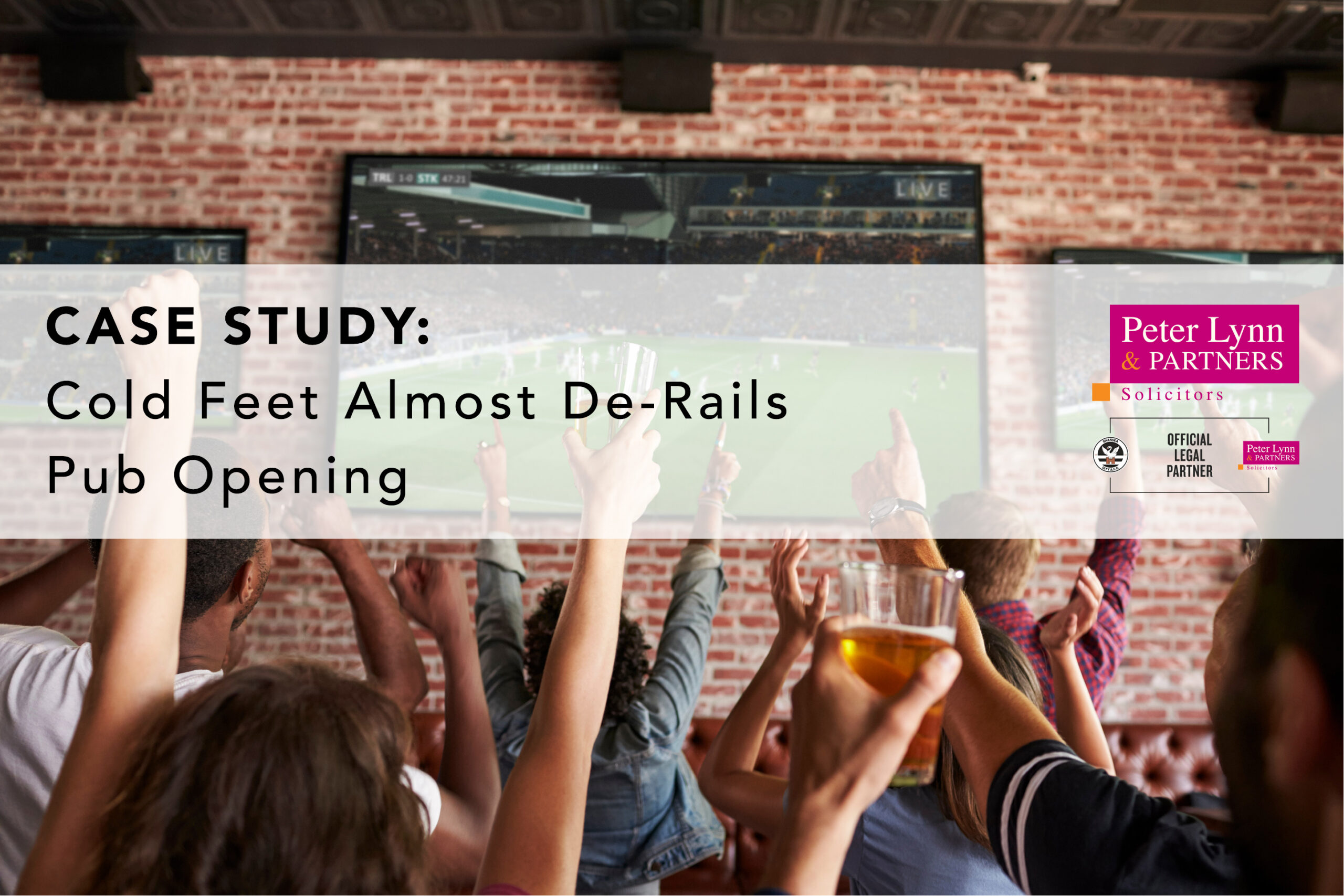 Opening a new business is an exciting experience, however, it's only natural that people will ask themselves if they are doing the right thing.
Even the most experienced of entrepreneurs may have periods of doubt, but what happens if one of your business partners "wants out" before the company has begun trading?
This is exactly what happened to one Swansea based business and in the following article, James Lewis-Hyndman outlines what happened and how Peter Lynn and Partners rectified the situation.
Background
Two directors (and friends) were following their dream of opening a sports-themed bar in Swansea. After much planning, the duo were in a position to move forward with their new venture.
A limited company had been set up, a location had been identified, terms negotiated with the landlord, the relevant licensing applications completed, suppliers had been secured and the interior design was signed-off.
The timeline for the opening had been agreed upon by all parties and work was due to commence – until one of the partners decided he no longer wanted to be part of the business.
"One partner getting cold feet the closer a business gets to opening is quite a common occurrence," said James.
"Launching a company, especially one in the hospitality sector, can be extremely stressful and often, the pressure can lead to a change of direction for some shareholders."
Situation
With the business being owned 50/50 by the directors, the split meant the bar could not open until the situation was resolved.
And as there wasn't a shareholder agreement in place to deal with this scenario, the directors required the assistance of an experienced company and commercial law firm to fix the issue fairly, but quickly.
Legal Advice
Fortunately, the individuals approached Peter Lynn and Partners and secured the services of partner and corporate lawyer, Nia Godsmark.
Nia, who has over 15 years of experience in dealing with company and commercial law matters, immediately began working on a solution that benefitted both parties.
A Share Purchase Agreement was drafted as the main legal document, enabling the director who wanted to leave to sell his 50% of shares to the other business partner.
Alongside this, ancillary documents including the sellers' resignation as a director, a stock transfer form, company board minutes approving the transaction and more were drafted and agreed.
Outcome and Lessons Learned
Ultimately, the director was able to buy his partner out of the business and continue with the original plan of opening the sports bar, albeit on his own.
The key lesson here, however, is to ensure you have a partnership and shareholder agreement in place, even before you "open the doors" to your new business.
Not only will this save time and money if one partner decides to leave, but it also outlines the course of action should something else happen, e.g. one partner becomes critically ill, or one partner passes away.
If, however, you find yourself in a similar position and do not have a legal agreement in place, the best course of action is to seek the services of an experienced company and commercial law firm as early as possible.
For advice on this or any other business matter, please contact:
01792 450010
Peter Lynn and Partners,
Preventing Legal Problems.