April 25, 2018
Commercial Premises – 6 Top Tips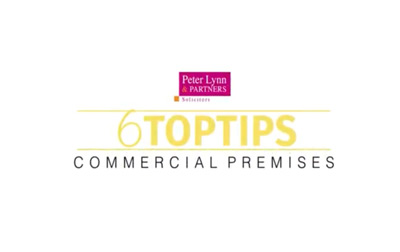 There comes a time in nearly every business when you have to consider buying, selling or leasing commercial premises. The following are top tips for consideration:-
1. Calculate whether you really need to buy or rent or have a combination of both.
2. If buying, get expert commercial property advice from a proper commercial property lawyer, who is aware of full commercial enquiries, local plans to ensure there are no hinderances to trading or running a business at particular premises or land.
3. If leasing, it is vital that you not only get expert advice from lawyers and surveyors but that you take photographs and have schedules of condition done in respect of the property you take on and look very carefully at repairing covenants.
4. Can you extend the terms of your occupation? Can you leave early? Can you buy the property? Do you have options to purchase? All of these can be discussed with commercial property experts.
5. Check the rent review provisions. Can they be limited in any way? Is there scope for third-party determination?
6. Whether buying or renting, can you sell on your property at full value? Are there any restrictions on title or restrictions for certain businesses?
The above are just some of the considerations when considering commercial property; however, it is vital that you obtain expert commercial property advice.
For full advice contact our commercial property and land team on 01792 450010 or email [email protected]
Peter Lynn & Partners – Preventing Legal Problems.