February 14, 2021
Force Majeure Clauses and How To Use Them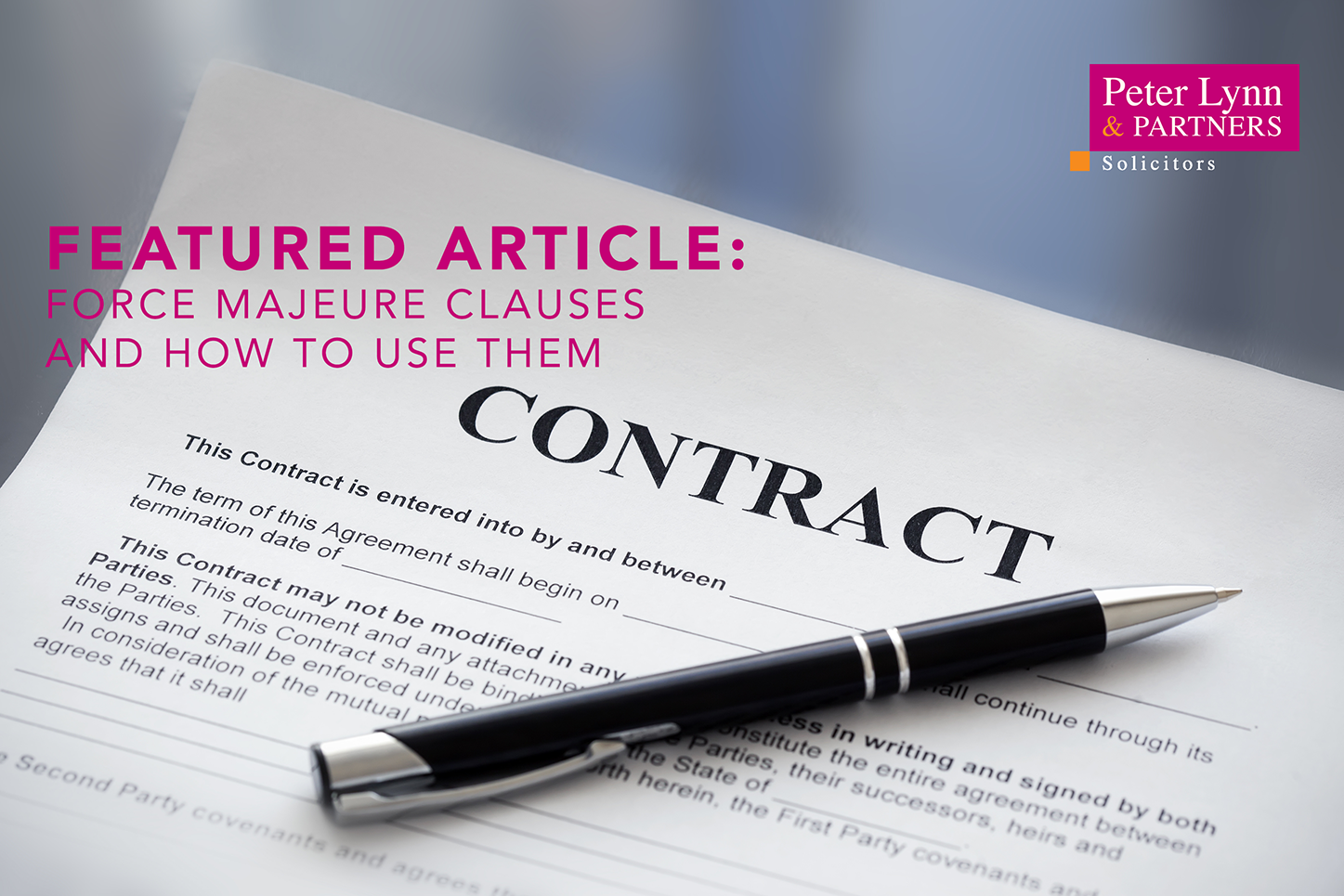 The resurgence of force majeure clauses and the doctrine of frustration have recently come to the forefront as businesses are finding it increasingly difficult to comply with their contractual obligations due to the ongoing effects of the coronavirus pandemic.
This article takes a brief look at the operation of force majeure clauses and the doctrine of frustration, how they can operate contractually and outlines how Peter Lynn and Partners can help your business through these difficult times.
Force Majeure
A force majeure clause operates by suspending, or excluding, one or both parties' contractual obligations if a defined event is beyond that party's control. As a result, that party will not be liable for the non-performance of the contract.
Only the party with the benefit of the force majeure clause can rely on it, so you should ensure that your business is protected by such an inclusion – there is no implied right to rely on force majeure if no such clause is present or only one party retains the benefit.
Therefore, in practice, Party A will not be able to rely on force majeure if the contract is drafted in a way so that only Party B retains the benefit of the clause.
Typically, force majeure clauses are drafted to include events such as war and acts of god but are not often expressly defined so as to include the effects of a pandemic. You should therefore ensure that the clauses are defined widely enough to incorporate such events in the future.
If an event is not covered by a force majeure clause, or if a party does not have the benefit of such clause in a contract, then a party may have to rely on the doctrine of frustration.
Frustration 
In the absence of any force majeure clause, a party may be able to assert that the contract has been 'frustrated' and cannot physically or commercially be performed. The doctrine of frustration is notoriously difficult to prove, but generally speaking, its defining features are as follows:
– The frustrated event must occur after formation of the contract and must not have been reasonably contemplated by the parties at the time they entered into the contract;
– The frustrated event must be fundamental to the contract;
– The frustrated event must not be the fault of either party;
– The frustrated event must render the contract impossible or illegal to perform.
If a contract is deemed to have become 'frustrated', both parties are automatically discharged from their obligations at that point.
We are seeing more and more business struggling due to the ongoing effects of the pandemic, whether it be struggling to make payments under contracts or agreements, or physically being able to undertake the work. It is therefore imperative that your business contracts are professionally drafted from the outset or thoroughly reviewed to help prevent any legal problems.
For guidance on reviewing and drafting all types of contracts, terms and conditions and agreements, arrange a free initial meeting with our team by contacting:
➤ Swansea 01792 450010
➤ Llanelli 01554 788280