April 3, 2020
How We Are Helping People Draft or Update Their Wills Remotely – a step by step guide: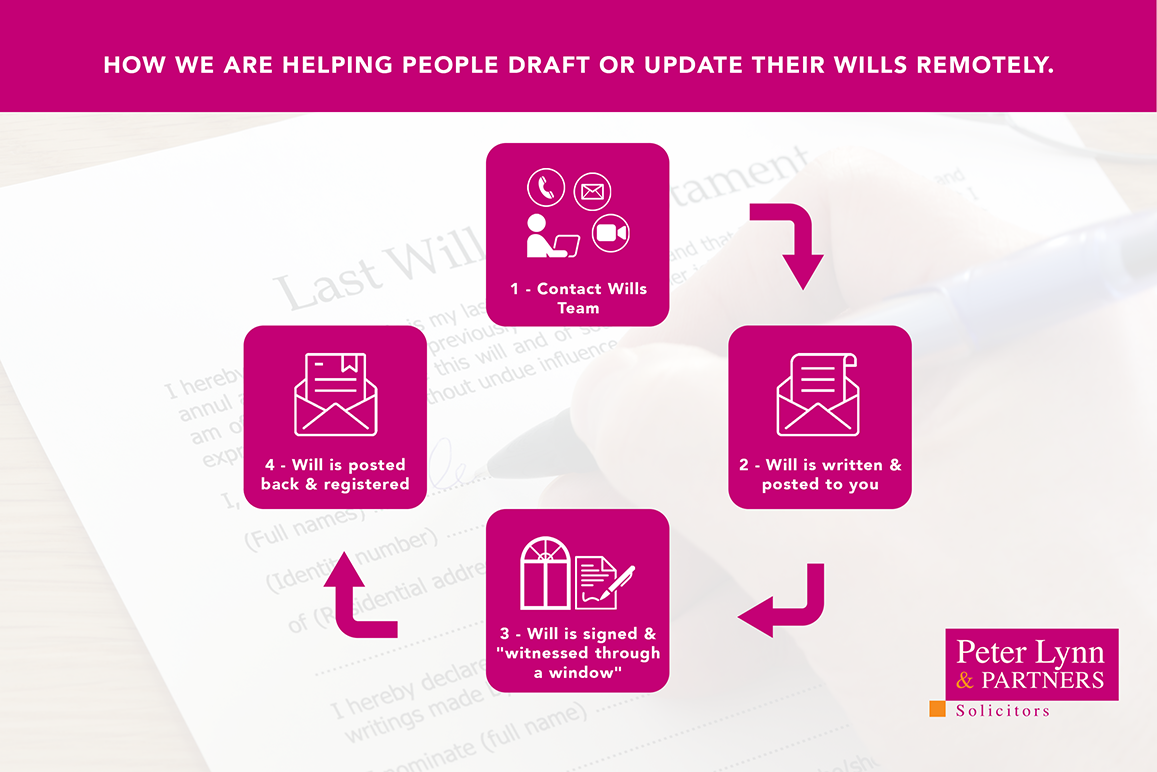 While "normal life" has changed considerably over the last few weeks, at Peter Lynn and Partners, we are still here for our clients.
Our offices may be temporarily closed, but our legal teams are still available by telephone, email, WhatsApp, Skype, Zoom and more to deal with any legal matter.
We are also able to complete legal documentation remotely, and one department who are actively working this way is our Wills & Probate team; and here's how they are doing it.
Initial Meeting
Taking place over the phone, our expert solicitors will discuss your requirements, answer any questions you have and talk you through the process. Generally, this is a 30-minute meeting and, subject to you giving us the authority to write or amend your Will, we will begin the process in full.
Information Gathering
Understanding your current situation is a critical first step in writing your Will, and while it may seem straight-forward, it's where our experience and expertise is invaluable.
Our team are all qualified Will-writers and have been trained to ask the right questions in order to draft a document that is not only in line with your wishes but reduces the chance of being legally challenged at a future date.
We frequently see Wills that have been completed using off-the-shelf templates, as part of a free service offered by high street banks or by un-qualified will writing companies.
Not only do these "fill in the blanks" type of documents often leave families with issues to resolve later down the line, but they are also restrictive in terms of understanding your wishes as they often omit key areas that are simply not on the form.
Advice
Once we have gathered the information we require, we will advise you the options available to you that meet the needs of your situation.
For example, if you are living with someone but are unmarried and want to make sure the other person can continue living in the home for a fixed term after you die, a Right to Occupy could be included in your Will. We can also advise you on nominating guardians in your Will to care for your children whilst they are minors, providing you with that added peace of mind.
Inheritance Tax Advice
Depending on the complexity of your situation and the value of your assets, it is prudent to make your Will as tax-efficient as possible, so your loved ones get the maximum benefit when you pass away and not the taxman.
For example, you may want to set up a Trust for your children; an Independent Financial Advisor can help you achieve this as well as many other financial matters, and we can either recommend an IFA or work with your own IFA if you have one.
Draft Will & Signing
Once we have obtained all the necessary information, we will draft (write) your Will and post two copies to you with written instructions on how to sign it.
When signing your Will, you must be in the presence of two independent witnesses over the age of eighteen (such as friends, colleagues or neighbours). 
With the current social distancing restrictions in place due to COVID-19, we realise that this may not be as easy as it sounds, however, our advice would be to enlist the help of neighbours who can witness you sign but maintain a safe distance.
A Will is considered validly executed if it is signed and witnessed through a window, so you can call on two neighbours to look through your window to witness you signing the document.
You can then leave the document in a safe place – e.g. a front door-way or porch – for them to sign.
Our advice would be to ensure each person uses their own pens and maintains a two-metre distance to ensure that social distancing guidelines are being met.
One copy of your signed Will should then be posted back to us so we can check it has been correctly executed before registering it with The National Will Register (should you opt to do so) and arranging for its safe storage.
For advice on your Will or for any other matter, please email our team of experts on [email protected] or call 01792 450010