December 17, 2020
Law Firm Continues to Support Swansea's Homeless This Christmas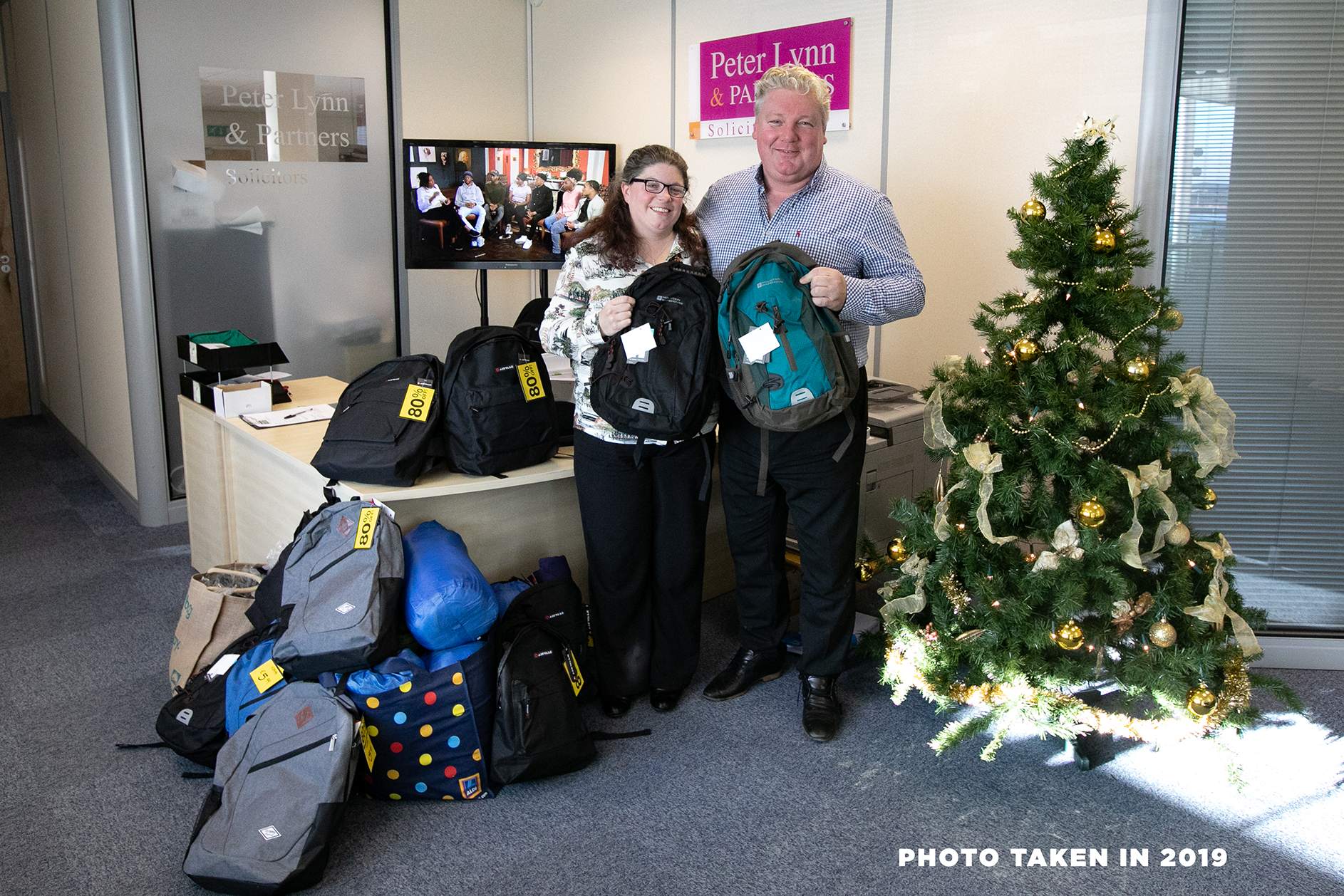 Peter Lynn and Partners are proud to help the homeless in Swansea this Christmas by continuing their support of The Rucksack Appeal Swansea.
Coordinated by Paula Stockley (who founded the appeal), the initiative aims to provide Rucksacks filled with essentials items to hand out to anyone who finds themselves homeless or rough sleeping in the City.
"Winter is a particularly difficult time for homeless people," said Paula, "and with the ever-present threat of COVID, we are doing everything we can to support vulnerable rough sleepers this Christmas."
Each Rucksack will include a hat, gloves, scarf, toiletries, hoody, socks and a selection pack as well as sleeping bags, trousers and underwear as extra items for those in need, but this year, things are a little different.
"In normal years, a team of volunteers would pack the bags and distribute them to the homeless," explained Paula, "however this year, we need to adapt our activity to factor in the pandemic."
"We are not only including facemasks and hand sanitisers in each pack, but we have stringent safety precautions in place to make sure each rucksack is sanitised and safe before being handed over" she continued.
The appeal, which has been running since 2016, provides rucksacks for both the summer and winter months to local homeless people through venues such as Matt's Café, Zac's Place and Ogof Adullum.
"We normally donate approximately 20-22 winter rucksacks and 40-50 summer rucksacks," said Paula, "however this December, we are aiming to provide over 100 rucksacks which will be donated on Christmas Day by Matt's Cafe."
Since the start of the appeal, fundraising activities have been vital in order to raise money to purchase the items for the bags and is how Peter Lynn and Partners got involved.
"Paula first approached us to donate to the appeal in 2017, and I am proud to say, we have continued to donate to this extremely worthwhile cause every year since," said senior partner Peter Lynn.
With the fundraising still ongoing, Paula is encouraging anyone to donate as much or as little as they can through her Fundraiser page on Facebook – https://www.facebook.com/donate/3549615811753568/3549621951752954/
Note:
The photo used was taken in 2019.