December 10, 2019
Law Firm Continues to Support Swansea's Homeless This Christmas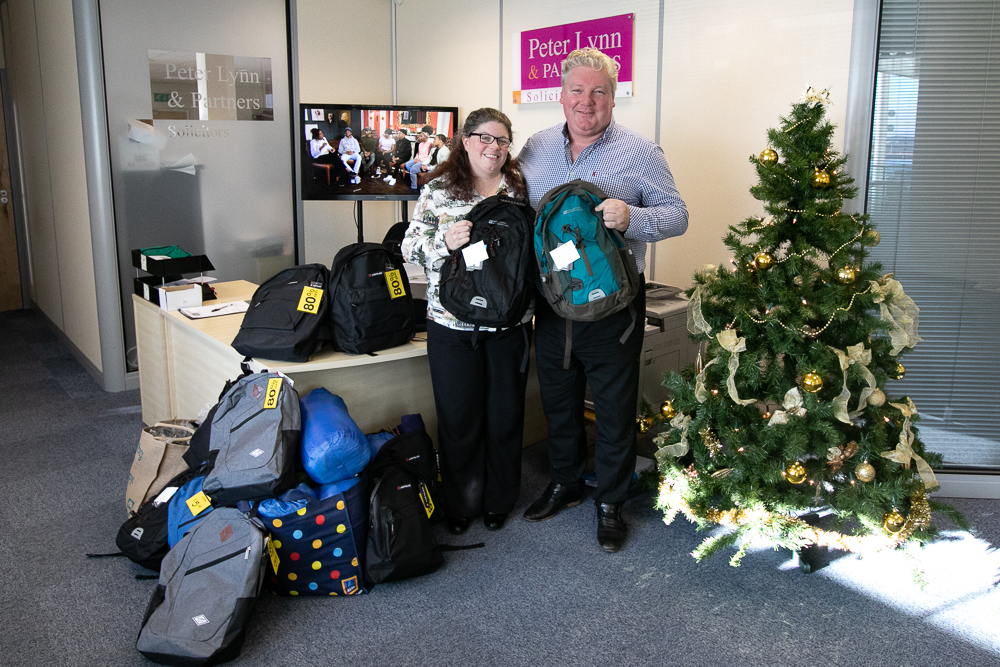 Peter Lynn and Partners are proud to help the homeless in Swansea this Christmas by supporting The Rucksack Appeal Swansea.
Coordinated by team-member and founder of the Rucksack Appeal, Paula Stockley, the initiative aims to provide Rucksacks filled with essentials items to hand out to anyone who finds themselves homeless or rough sleeping in the City.
Paula commented, "The appeal has been running since 2016 and aims to collect rucksacks filled with essential items for homeless & rough sleepers."
Initially started as a scheme to help rough sleepers over the winter, the appeal now includes the summer season, however, this winter, Paula is set to hit a record year.
"We normally donate approximately 20-22 winter rucksacks and 40-50 summer rucksacks," said Paula, "however this December, we have already made up 49 rucksacks and have raised over £1,300 and counting."
The money has been raised through direct donations and raffles, something Peter Lynn and Partners were more than happy to contribute to, as senior partner Peter Lynn explained:
"We have supported the appeal for the last few years, and were only too happy to increase our support this year to help the homeless in our city this Christmas."
Each Rucksack will include hat, gloves, scarf, toiletries, hoody, socks and a selection pack and there are also sleeping bags, trousers and underwear as extra items for those in need.
"I currently have 49 Rucksacks almost complete and have handed 5 to Matt's Café, 11 to Zac's Place, 20+ will be going to Ogof Adullum, and others will go to helping rough sleepers in Llanelli and Neath Port Talbot," said Paula.
With the fundraising still ongoing, we are encouraging anyone to donate as much or as little as they can through the Just giving Page here – https://www.justgiving.com/crowdfunding/therucksackappeal and specific items in need include:
Men's hoodies
Ladies hoodies
Pairs of gloves
Hats