June 17, 2020
MEET THE BUSINESS RESPONSE TEAM
Posted in
Advice, Banking & Finance, Charity & Community Work, Commercial Property, Commercial Property, Company & Commercial, Employment, Guardian Scheme, HR & Employment Law, LGBTI+, LPA, News, Public & Third Sector, The Legal & HR Plan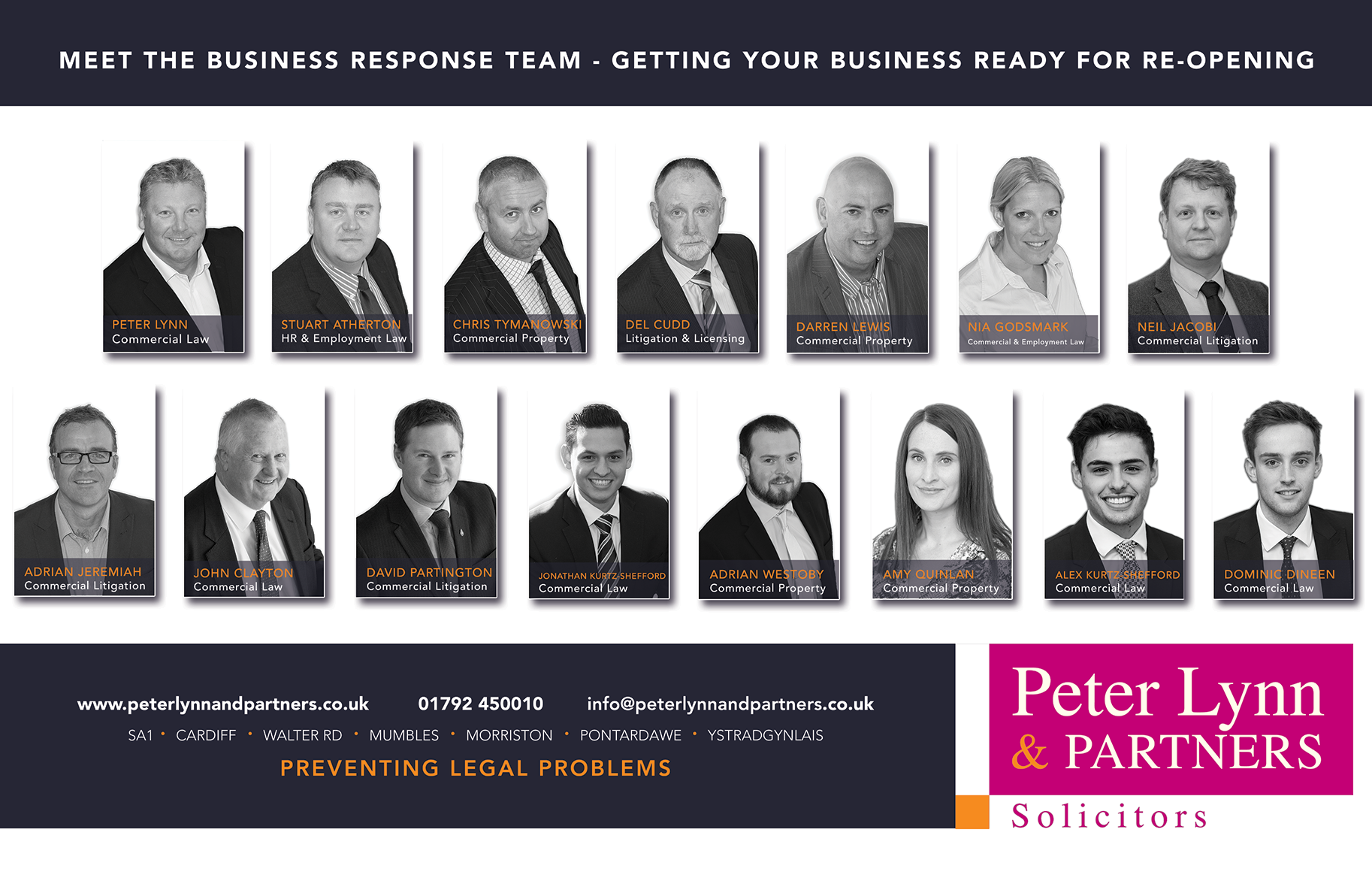 As companies in Wales look to re-start and re-open, we have launched our new Business Response Team to support owners and directors who are planning for the short and medium-term.
We understand that people may see a law-firm as a resource to use only when faced with a legal summons; however, this team has been set up to help advise on matters such as:
Dealing with staff returning from furlough

Changes to employment contracts and possible redundancies

Negotiating commercial rent payments

Managing business debt

Paying suppliers

Dealing with business disputes

And more.
For some businesses, short term survival and simply keeping your head above water needs accurate decision making and for other companies, making the right changes at the right time could even make your business thrive post-lockdown.
So why choose Peter Lynn and Partners?
With one of the largest, dedicated company and commercial law teams in South Wales, our Business Response Team combines extensive legal knowledge and success with in-depth sector-specific experience.
This powerful combination means we are best placed to pre-empt business problems and can give expert advice to directors and owners to improve profitability and plan for re-opening after the lockdown has been lifted.
In the current economic climate, this is vital as businesses face potential legal issues relating to staff, suppliers, banks and more, so planning now is a prudent way to prevent problems later on.
We offer unique, holistic business solutions to our clients so whether you are a start-up, an SME or multi-site, multi-million-pound turnover corporation, our Business Response Team is here to help.
We have extensive experience of advising businesses in the public, private and third sectors, and we will provide you with a clear plan to help your business re-start and emerge from the coronavirus pandemic stronger.
The Business Response Team will help with any aspect of your business planning, including areas such as:
• Employment Law
• Debt and Insolvency 
• Business Restructure
• Business Recovery and Turnaround 
• Litigation
• Contractual Issues
• Sale of Assets
• Sale of Property
• Partnership and Shareholder Disputes
• Any legal matter
To arrange a free initial meeting with one of our team, call 01792 450010 or email [email protected] and visit this page for more information on the services we offer: