October 6, 2023
Pets in Wills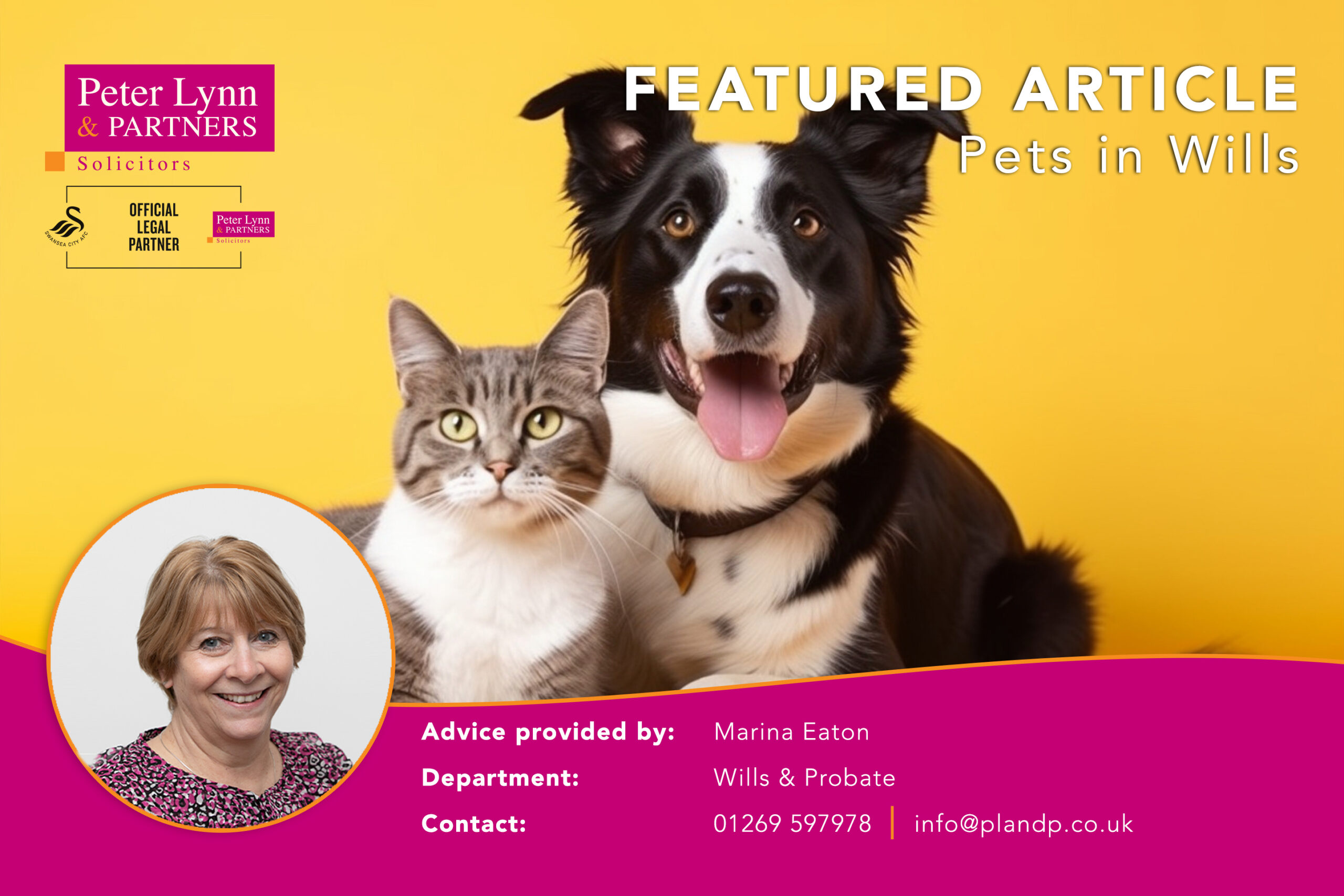 For many families, pets are viewed as another family member, however, very few people include instructions in their Will on what happens to their pets when they pass away.
Under Welsh and English law, pets are viewed as chattels which are moveable personal possessions. Meaning they hold the same legal status as your car, items of furniture and jewellery.
Therefore, when thinking about who you would want your favourite item of jewellery to go on your death, you might also want to consider who would be responsible for your beloved pets. 
For many people, this would be a trusting family member or friend. However, it is worth keeping in mind that many charities offer various rehoming schemes. 
For example, Cats Protection offer a Cats Guardian Service, Dogs Trust has created a Canine Care Card and Blue Cross has introduced a 'Pet Peace of Mind' service, to name a few.
Alongside this, you may want to consider leaving a monetary gift for the maintenance of your pet. This could either be an outright cash legacy, for the trusted individual in the event that they should care for your pet, or put into a trust, to be held for the remainder of your pet's life. 
You can specify the amount and how this should be used.
In the event that you do not make a provision for your pet in your Will, it would be the responsibility, and financial burden, of your appointed Executors to arrange who should care for your pet. 
If you do not make a Will, then your pet would fall along with the rest of your estate via the intestacy rules, and the person responsible for your pet may not be the person you want it to be.
For more information or to arrange a meeting with Marina or any of our Wills & Probate Team to discuss including your pet in your Will, please contact:
➤ Swansea – 01792 450010
➤ Mumbles – 01792 369303
➤ Llanelli – 01554 788280
➤ Ammanford – 01269 597978
➤ Pontardawe – 01792 863633
➤ Ystradgynlais – 01639 842709
➤ Email – [email protected]
Peter Lynn and Partners Solicitors
Preventing Legal Problems.