February 23, 2023
Preparing Your Business for Sale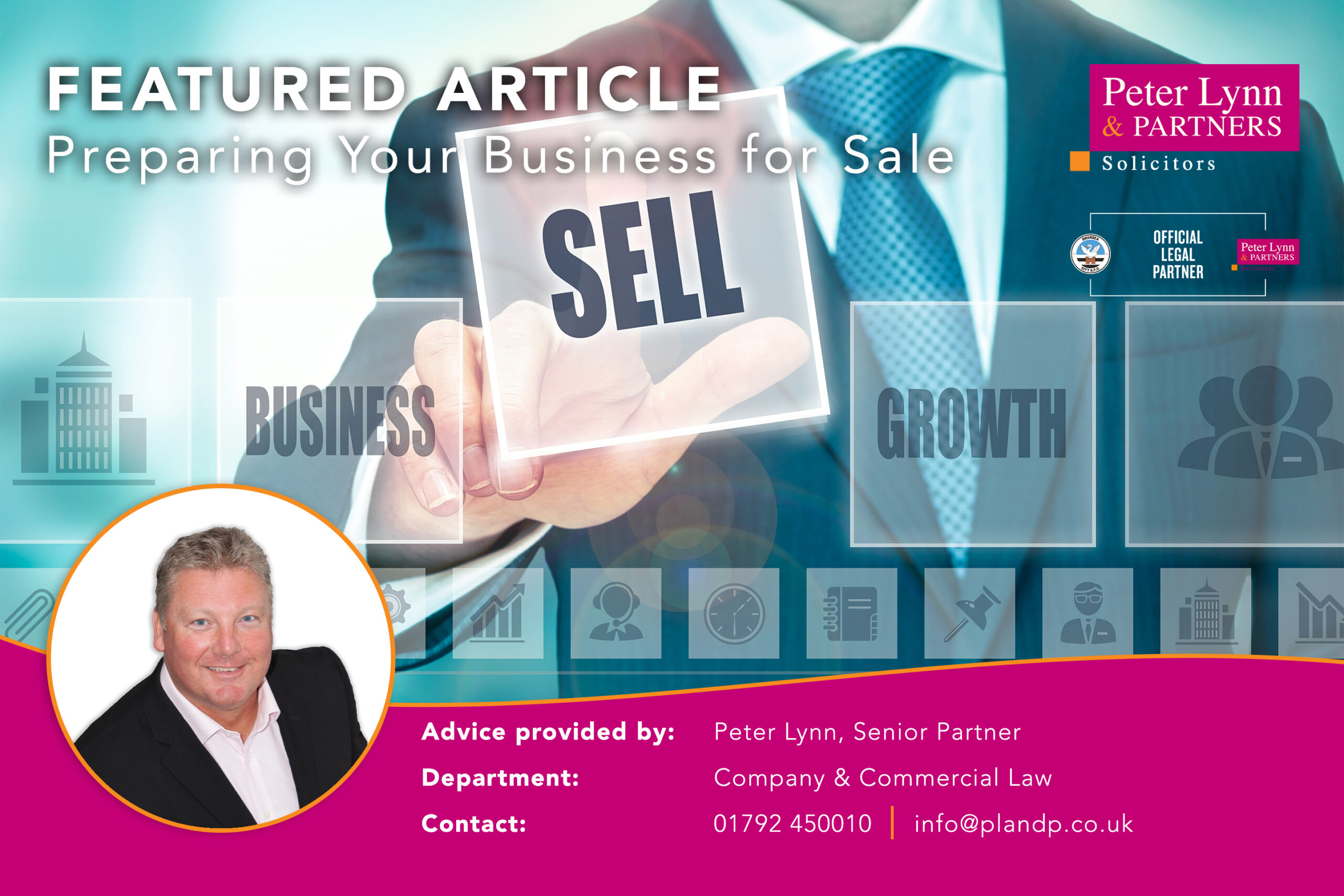 Selling a business may be the most important decision in your life. 
Getting the right advice at the outset is vital, and the following crucial matters need to be considered:
How Much Is My Business Worth – How Do I Value It?
We can assist and help get the right advice at the outset from expert valuers or accountants specialising in your field of activity. Valuations depend on a multitude of factors. Also, we can ensure an agreed sale price is documented in a Heads of Terms.
How Do I Increase the Valuation?
Profitability and asset accumulation will always help, and we can help get things on a better footing. A key element is Goodwill (which isn't easy to quantify. We will help you maximise the value over and above the 'book-value' of the company.
Who Are My Prospective Buyers?
Many sellers overlook potential buyers who may wish to enter into negotiations. We can help with approaches to sources inside and outside of the company, many of whom may not have been considered.
Share Sale or Asset Transfer?
Business acquisitions will fall into one of these two categories, and we can fully advise on the merits of both as well as advise on the practical and taxation benefits of both.
How Do I Reduce Any Potential Liability as A Seller?
This is where an experienced commercial lawyer can make a major difference. 
Sale agreements may contain extensive warranties, guarantees and indemnities, and the negotiation around these is very important. Having experienced advice on hand for the due diligence and disclosure process is vital to avoid future claims.
How Do I Keep Legal Fees Down?
By using a law-firm with a proven track record in sales, mergers and acquisitions.  
We work with a range of companies from start-ups to global, multi-million-pound corporations and are best placed to offer legal advice for businesses.
Our team include seasoned lawyers that have extensive, sector-specific knowledge and are best placed to advise you.
What's more, by 'preventing legal problems' in the first instance, it will save you money in both the short and long term.
How Should The Sale Be Structured?
Specialist help is needed on such matters as:
Deferred/Staged Payments 
The purchase price is paid in a number of monthly/yearly instalments to assist with the buyer's cash flow. This may yield a higher overall sale price. We can advise on the security for the staged payments, including personal guarantees, charges on property /assets or shares.
Retention
Careful advice is needed on circumstances where the buyer insists that a percentage of the purchase price be held in a retention or escrow account for a set period effectively to act as security in respect of claims by the buyer.
Expert advice is needed on the precise wording or even the necessity for such clauses.
Earn-Out
We can help maximise returns where part of the purchase price is payable in a period after completion when the target company hits certain financial milestones.
If this is the case, the seller may want to retain an interest in the company after completion to guarantee payment. There are many options to secure a fair return and enforce payment.
These are just a few considerations, but whatever the business, you will want an experienced and expert team in your corner.
To arrange an initial meeting with our team to discuss your options and plan a way forward, contact:
01792 450010
https://www.peterlynnandpartners.co.uk/company-commercial/
Peter Lynn and Partners
Preventing Legal problems