February 13, 2021
Removing a Family Member from your Will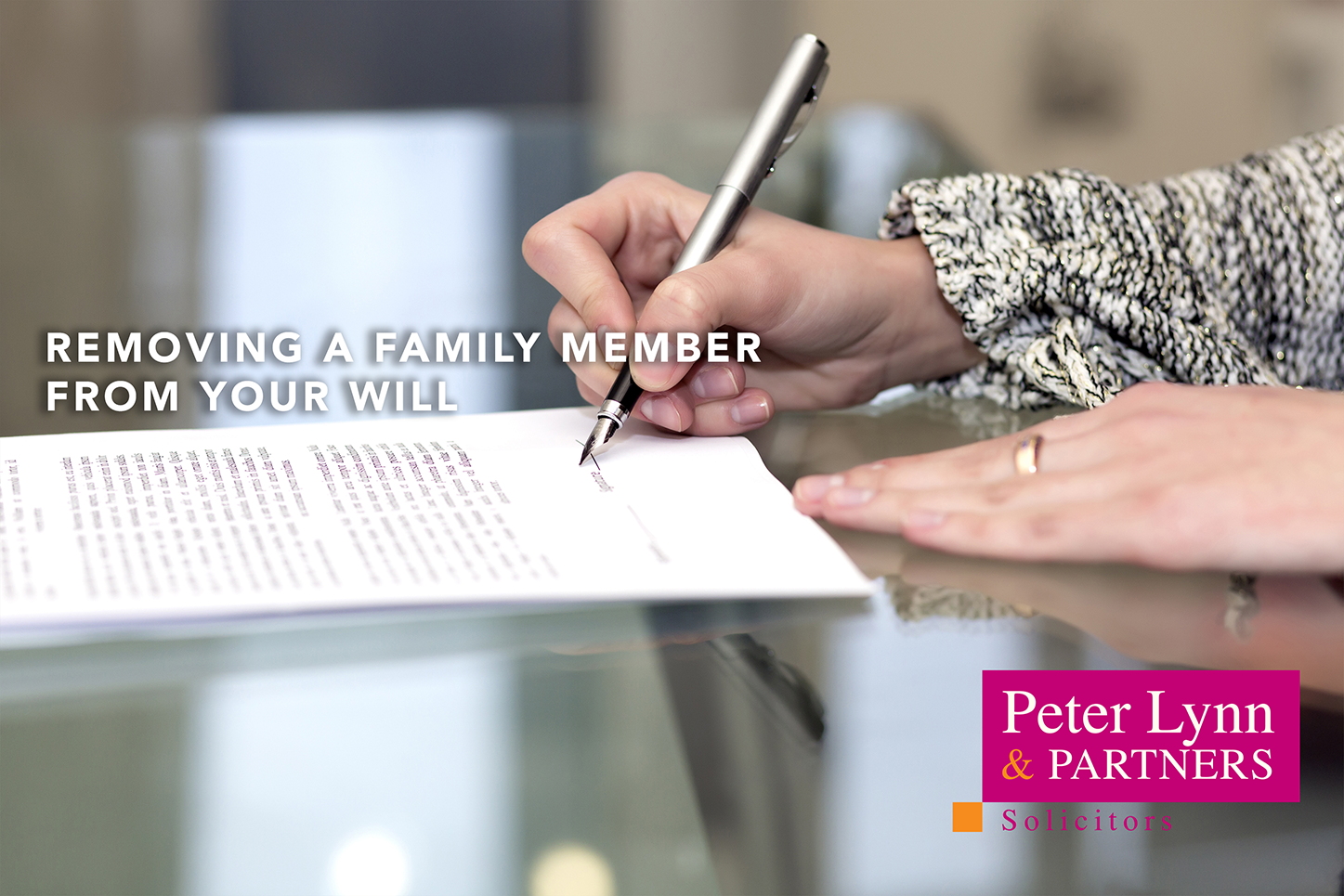 Question:
I've fallen out with my daughter and haven't spoken to her in years. I don't want her or her family inheriting from me when I pass away. How can I do this without my estate being contested?
Answer:
I am sorry to hear that your relationship with your daughter has broken down. If you want to create a Will that disinherits your child, you must be sure of your reasons for doing so – and be honest. 
Unfortunately, you cannot prevent someone from threatening to, or indeed seeking advice on contesting your Will however there are things that you can do to ensure that any grumblings of a claim are short-lived.
The first step is always to use a qualified and regulated Will-writer such as a solicitor.
There are a few grounds upon which someone can contest a Will however a solicitor will be privy to these grounds and will be trained to ensure that you are protected, putting preventative measures in place and providing you with solid bespoke advice based upon your circumstances. 
A solicitor is able to determine capacity to make a Will, and if there is any doubt in this regard, is able to advise on how best to proceed to ensure that your best interests are catered for.  
Meetings with your solicitor are strictly confidential, and detailed notes taken during these meetings will identify or eliminate any influence or intention concerns. If there are any concerns, your solicitor will deal with these to ensure they do not play a factor before your Will is drafted and executed.
Letter of Wishes
A Letter of Wishes can also be used to assist your Executors in the event that your Will is challenged in the future, or if you have concerns that this might be the case. You can, in your own words, provide an explanation as to why you have excluded people from your Will or have not treated them as favourably as they might expect. 
Solicitors can often assist in the drafting of Letters of Wishes if you're not sure what to include or how to include it.
Generally, we advise you to start with a rough draft of your wishes which your solicitor can then translate into a letter of wishes for you to ensure what is written truly reflects what you want to say.
These documents (outlining your decision and reasons for exclusion of a person), alongside your solicitor's papers are often integral documents used by your Executors if proven necessary to defend your estate when you pass away. 
What if I don't write a Will?
If you don't write a Will, everything you own will be shared out in a standard way defined by the law (a process called Intestacy) – which isn't always in a manner you might want. 
Unfortunately, the law does not take into account any inter-family disputes or reasons why a person should not inherit, so without a Will, your estate is split in accordance with the law, regardless of the relationship dynamic.
What if I change my mind?
Your Will can always be updated if your circumstances change and so you should not feel as though you are making a full and final decision.  
We are aware that lives move quickly and that your wishes may alter over time and so it is our advice that you review your Will every 12-18 months to ensure that it is up to date. However, for now, the best advice we can give you is to instruct a solicitor to discuss your Will.
For advice on Wills, LPAs, Trusts or any other inheritance planning matter, contact our team of experts.
Call 01792 450010 or email [email protected] and remember, we can complete the Will-writing process remotely if required. 
https://www.peterlynnandpartners.co.uk/wills-probate-trusts/