April 25, 2019
Student Bursary Helps Future Legal Eagles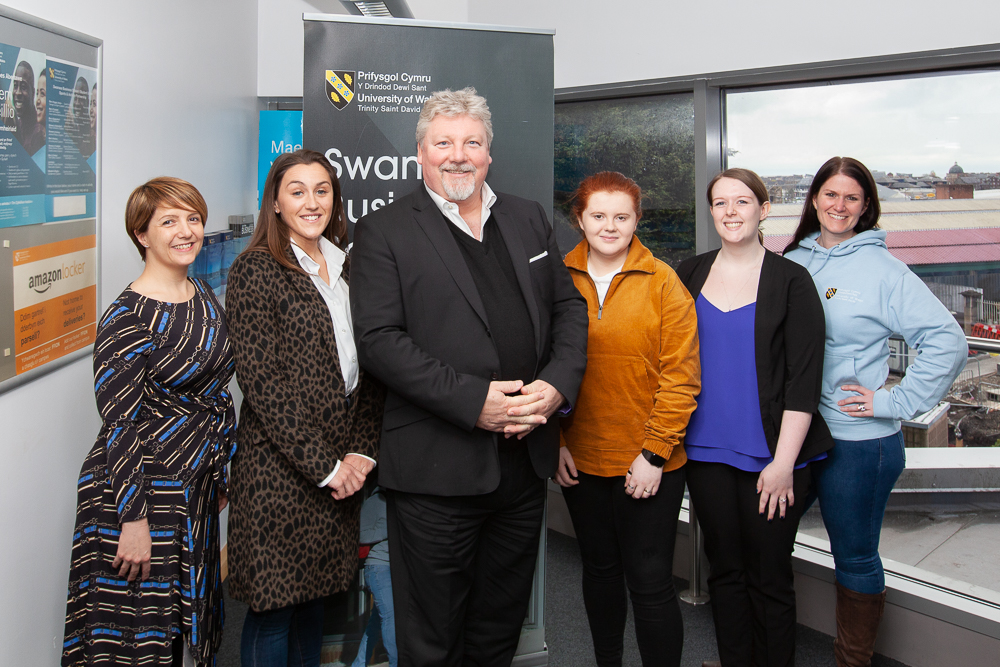 Leading Swansea law firm Peter Lynn and Partners has partnered with the University of Wales Trinity Saint David (UWTSD) to offer a bursary to two students on the University's Law & Criminology course.
Laura Humphries and Lowri Harries are the first recipients of the new bursary which also includes a four-week placement at the firm's head office in SA1, where the university has opened its new £350 million SA1 Swansea Waterfront Development.
Bronwen Williams, Programme Director Law Portfolio at UWTSD's Swansea Business Campus, said: "We are delighted to announce this partnership with Peter Lynn and Partners Solicitors and the opportunity of a four-week placement, as well as the bursary, will be extremely beneficial to both Laura and Lowri."
Laura, who is in the second year of a Law and Criminology course, is looking to progress her career as a criminal lawyer, something that is a change of direction for her.
She said: "I've always had an interest in Law, and after spending a few years working in a primary school, I decided to enrol on the Law and Criminology course at UWTSD, so to be given the opportunity of a guaranteed placement and to have won the bursary is just fantastic."
Alongside Laura, the other winner of the £500 bursary and placement is Lowri Harries, who enrolled on the same course after completing her A-Levels in Ysgol Duffryn Amman.
Lowri said: "I'm delighted to have won the bursary, and as I'm thinking of undertaking a Masters in Criminology once I graduate, I'm looking forward to the placement and seeing first-hand how a legal practice works."
Employability is a key focus at The Business School in UWTSD at both the Swansea and Carmarthen campuses, with innovative learning and industry collaboration creating more opportunities for students to enhance their employability prospects after graduation. This unique approach of bringing students, academics and businesses together also enables them to explore ideas and create opportunities for the development of new businesses, products and services.
While the students are the latest UWTSD students to obtain placements at the firm, they are by no means the first.
Residential Conveyancing paralegal, Cerys Kane, has been with Peter Lynn and Partners since 2017 after herself undertaking a 2-week placement. "I graduated from my Business & Law Degree in 2018," said Cerys, "and was fortunate to be offered a training contract which I'm due to qualify from in 2 years' time."
The placement model is a useful recruitment tool for the law firm, as they seek to develop new lawyers to meet the growing demand for their services.
Peter Lynn, Managing Partner said: "The firm continues to grow year on year across all departments, and we are now over 50 lawyers. A solid recruitment strategy is key to this success, and while we actively seek experienced solicitors to join our ranks, we recognise the value of developing lawyers straight from university, so this bursary is a great way for us to help the next generation of solicitors into the sector and to mould them in the way in which our firm operates."
Knowing what employers are looking for from graduates is crucial to developing the right employability skills amongst students, something that is of particular interest to UWTSD Law and Public Service lecturer, Louise Holmes.
"We offer a different route into the legal profession," said Louise, "One that is weighted towards hands-on experience as well as academic knowledge, so to have a thorough understanding of what a local firm such as Peter Lynn and Partners looks for in its graduate placements is invaluable."
The placements will take place over the summer holidays.