August 14, 2013
Welsh equestrian team crowned European champions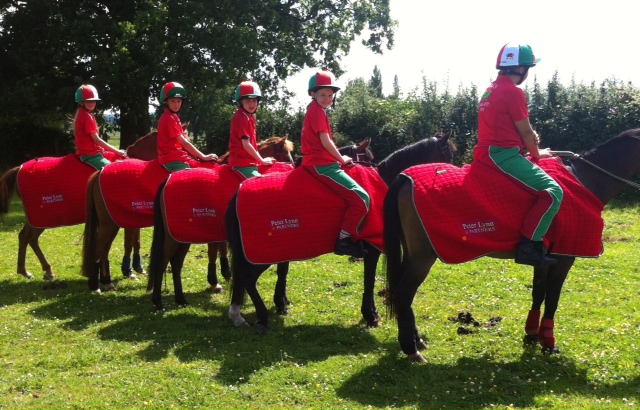 A team of young Welsh horse riders has taken the equestrian world by storm to be crowned European Champions.
The Wales Under-12 team were by far the most successful team in the Mounted Games competition at Tattersall's racecourse near Dublin.
The super six – Ben Hopkins, Izzy Lynch, Emily Norton, Jaz Cuggy, Erin Beach and Ffion Monger (reserve) – impressively won every session over four days of hard competing.
They were very impressive and finished head and shoulders above their rivals beating teams from Ireland, Northern Ireland, France, Belgium, Italy and England. They are now the European under 12s champions.
The six riders went through a selection process in Chepstow in March for selection to the Welsh under 12 Mounted Games team, trained by Iain Hopkins of Monmouth.
Mounted Games is a team sport where five riders compete against other teams in a series of relay races, requiring high levels of fitness and athleticism.
Mounted Games
is a branch of equestrian sport in which very fast races, exciting for participants and spectators alike, are performed by excellent riders on well-trained ponies.
They require a high degree of athletic ability, good riding skills, hand-to-eye coordination and a competitive spirit.
The sport is growing fast in popularity and is aiming for Olympic status.
And the team were backed by sponsorship from leading Swansea solicitors form Peter Lynn and Partners as well as a number of other companies.
Senior partner Peter Lynn is passionate about supporting and nurturing local Welsh sporting talent.
"I believe in doing whatever I can to support a team like the Welsh Mounted Games team. I was so delighted to see how well they did in Ireland. To beat of such strong competition is an impressive achievement," he said.
As well as Peter Lynn and Partners the Wales Under-12s team would like to thank generous sponsorship from Crynant Plant and Skip hire, AG services, Aruba beauty, Beauty box, PG Sportswear, Vetoquinol and Anthemion Auctions who helped provide the Welsh kit for the winning team.