May 3, 2020
What Is A Deputy Application and How Does It Differ from A Lasting Power Of Attorney?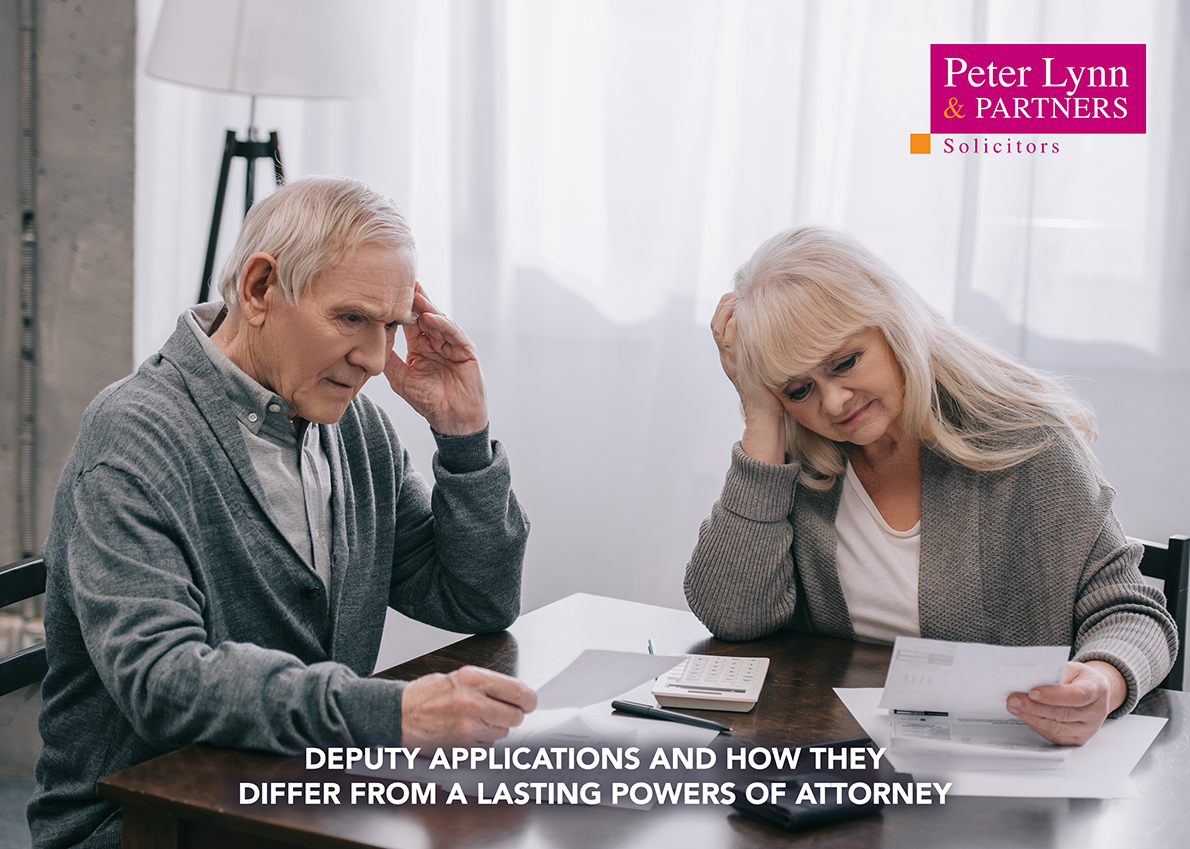 If someone close to you loses the ability to make decisions about their lives, what happens if there is no Lasting Power of Attorney in place? (an LPA is a document which allows someone to appoint a person to look after their affairs. read our article on LPAsfor more information).
If your relative or friend loses capacity and doesn't have one, there is still a way you could get legal help to manage their property, finance, health, or welfare.
You will need to consider making a Deputy Application.
What is a Deputy Application?
A Deputy Order is a Court document that allows someone to manage another person's affairs if they are unable to do so themselves.
In other words, if a person cannot decide something for themselves – often through a severe illness, brain injury, dementia, or severe learning difficulties – a family member, friend or carer can apply to look after specific aspects of the person's life.
What types of Deputy Application are there?
You can apply to be a property and finance deputy or a health and personal welfare deputy, or both.
A property and finance deputy will typically look after a person's home, bank accounts, and investments, while a personal welfare deputy will usually oversee the person's medical treatment and social care.
Personal welfare deputies tend to be appointed where family members disagree about care or where someone needs to make specific issues about something over time.
How do you apply?
Application forms must be sent to the court with a £385 application fee – this is doubled if you want to be both types of deputy.
If the court decides your case needs a formal hearing, you must pay £500.
The court looks at whether the person needs a deputy or another kind of help, and whether there are any objections.
Who can apply to be a deputy?
You must be over 18 to apply. Deputies are usually relatives or friends of the person involved.
If you intend to be a property and finance deputy, you need to show you have the skills to make financial decisions for another person.
What happens if the court grants the application?
You get written notification of what you can and cannot do from the court.
However, you must also report to the Office of the Public Guardian once a year, as it ensures the person for whom you care is protected, and you get the support you need to carry out your role.
You must also pay an annual supervision fee after and a 'security bond' if you become a property and affairs deputy. The level of the fee depends on how much supervision you need, £320 for general supervision or £35 for the minimal supervision of a property and finance deputy managing under £21,000. Read more here.
Why seek the assistance of a solicitor?
Having someone on your side who knows the law and understands that your situation needs great empathy is a significant help when making deputy applications.
Solicitors can take you through the application, step by step, and make the process far less stressful. The legal costs can also be fixed to give you extra peace of mind.
For expert advice on this and similar legal matters, contact Peter Lynn and Partners for a free 30-minute consultation on how we can assist with your deputy application by calling 01792 450010 or email [email protected]