March 27, 2020
COVID-19: Wills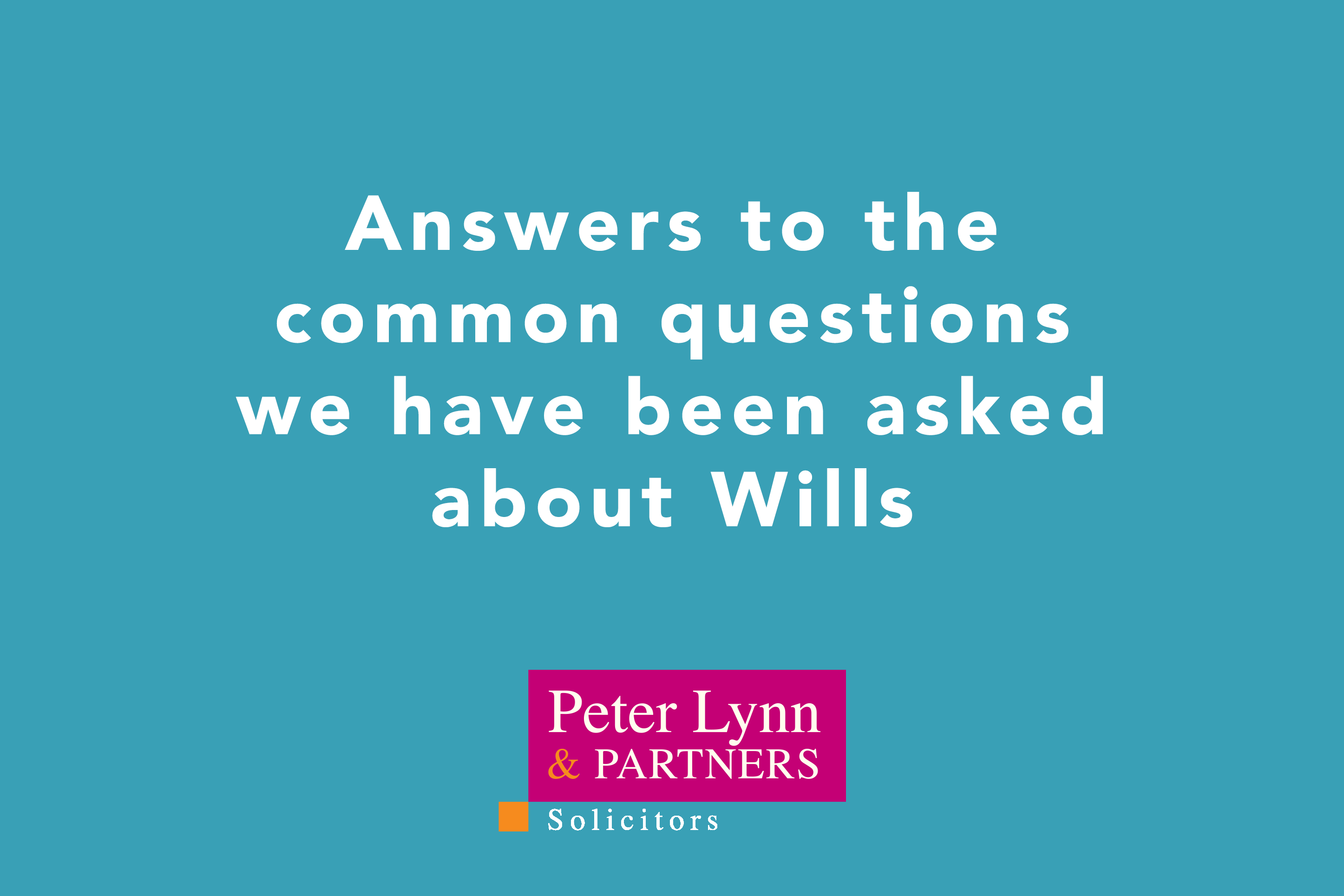 Answers to the common questions we have been asked about Wills:
Do you offer a discount for NHS/blue light cardholders?
We offer a 10% discount to all emergency workers who have a valid blue light card for any Will or Lasting Power of Attorney instruction. 
I work shifts so I may not be able to contact you during office hours. Can you help?
Due to the current government guidelines, we are happy to accept instructions via telephone and email. Please contact [email protected] in the first instance and one of the team will be in touch as soon as possible.
I don't have a Will and need one quickly – what can I do?
As standard, our Will instructions are turned around quickly; however, we can offer an expedited service should you require an urgent Will. 
For the importance of having a Will in place, our existing blog may answer any initial queries: https://www.peterlynnandpartners.co.uk/the-importance-of-having-a-will/
I have a Will in place but my circumstances have changed since it was written.
We recommend people review their Will every three-to-five-years, so if you have not updated since 2015, we can review it with you to make sure it reflects your current lifestyle?
If your circumstances have changed – new home, increased salary, children / grandchildren, divorce, etc. – then make sure your Will reflects any changes. It's also worth having a review with a Solicitor to ensure the Will is up to date with current legislation and that the Will is as tax efficient as it can be.
I run my own business – are there any other documents I should be aware of?
Alongside a Will, business owners should ensure they have an up to date partnership and / or shareholder agreement in place. Without this, your business colleagues may encounter problems such as:
· Difficulty accessing bank accounts to pay staff and suppliers, 
· Loans and supplier agreements may become invalid 
Do I need to use a solicitor?
While there is no legal obligation to use a Solicitor to write your Will, there are many benefits to using a law firm to prepare the document on your behalf. 
Firstly, when you instruct a Solicitor, you are instructing a professional with many years of experience, constant updated knowledge and training in that specific area. 
Secondly, you can feel safe in the knowledge that Solicitors are regulated by the Solicitors Regulation Authority (SRA) and have regular audits of their work. You can be assured your work is being done to the highest standard, rather than the possibility of being left vulnerable by instructing a non-regulated authority such as a Will Writing Company, who may not be monitored by the legal ombudsman or may not have insurance in place. 
Finally, a Will drafted by a solicitor is less likely to be challenged, saving your loved ones the pressure and heartache of a disagreement at an already emotional time. 
Am I able to come into the office to sign my Will?
Our offices are temporarily closed to the public; however, all staff are working remotely and are able to provide you with instructions on how to sign your Will at home. We are also contactable via telephone at all stages of the process and will be on hand to talk you through the process should you require assistance.
Both my partner and I are key workers, can we make provision for our children in our Wills?
Yes, you can nominate guardians in your Will if both you and your partner pass away before your children attain 18 years of age. You are also able to provide funding for your children's education and general wellbeing in your Will until they reach an age whereby you are happy for them to receive any inheritance. 
A letter of your wishes can accompany your Will to provide additional guidance to your nominated guardians such as any educational arrangements or specific circumstances warranting access to the inheritance. In essence, this is a very personal document which our team can discuss with you.
Do I need to consider any other document to help my family and me whilst I am still here?
We would always advise considering making a Lasting Power of Attorney. This document enables a person of your choosing to manage your affairs on your behalf should you no longer be able to do so (be that through illness, or mental/physical incapacity).
Should you find yourself in a position where you are unable to manage your own affairs, your family could run into great difficulty trying to handle your finances, property or health and welfare. Having a Lasting Power of Attorney in place will largely avoid a great deal of unrest during an already difficult time. 
A Lasting Power of Attorney is an invaluable document so for advice; please contact our team of experts to discuss this further.
For advice on Wills, LPAs, Trusts or any other inheritance planning matter, contact our team of experts on 01792 450010 or email [email protected] 
We are able to offer advice, review existing documents to ensure they are up to date and help you get a Will in place without the need for a face-to-face meeting.